Dr. Andrée Martin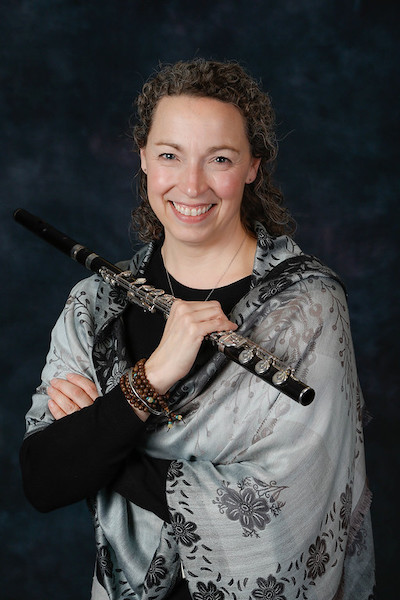 Newfoundland native Andrée Martin (B.Mus Memorial University of Newfoundland, MM University of Ottawa, DMA State University of New York at Stony Brook) has performed at Carnegie Hall under the direction of Pierre Boulez, at Alice Tully Hall, Lincoln Center, Warsaw Autumn and at the Prague Spring Festival as a member of the New York based Orchestra of the S.E.M. Ensemble. She includes playing Elliott Carter's Enchanted Preludes for the composer on a concert celebrating his 90th birthday and playing Le Marteau Sans Maître at Carnegie Hall with Pierre Boulez conducting among her most thrilling performing experiences. Andrée has performed and presented at the Seattle Flute Fair, Florida State University Flute Day, the International Clarinet Convention, the American Musicological Society Convention, the North American Saxophone Alliance and at the National Flute Association Convention.
Andrée is a Licensed Body Mapping Educator, and serves as President of the Board of the Association for Body Mapping Education (ABME). She has taught Body Mapping at universities throughout the U.S. and as a guest clinician for the Seattle Flute Club, the Atlanta Flute Club, and the Las Vegas Flute Society. In 2020, she began a three-year meditation teacher training course, Mindfulness-Based Stress Reduction (MBSR), at Brown University.
Andrée's interest in new music has led to collaborations and premieres of works by, among others, Earle Brown, Alvin Lucier, Ricardo Zohn-Muldoon, Ralph Shapey, J.M. David, Brian Cherney, David Lang, Daniel Koontz, Perry Goldstein, Daniel Weymouth, Roscoe Mitchell, Petr Kotik, and Jackson Mac Low.
Andrée has had various solo and ensemble performances recorded and broadcast for the CBC including a concerto with members of the National Arts Center Orchestra. She was chosen as the first recipient of the Samuel Baron Memorial Prize, was the only music finalist for the Thayer Fellowship and was a winner of the Stony Brook Concerto Competition. Funding for her studies in New York with Samuel Baron, Carol Wincenc, Tara Helen O'Connor and in Ottawa with Robert Cram came in part from a generous grant from the Canada Council for the Arts.
Andrée's research on French composer André Jolivet has been published in Flute Talk magazine (2004). She has also been published in the NFA publication Flutist Quarterly (2005, 2011). She is a founding member of The Furious Band, selected as the contemporary ensemble in residence at both the Aspen Summer Music Festival and at the Banff Center for the Arts Composers' Forum. The Furious Band performed throughout Japan, Canada, the United States, and at the Musica y Escena Festival at the Bellas Artes Theatre in Mexico City. They can be heard on CRI.
An advocate of international education, Andrée has taught in Oxford, London, Paris, and Florence. Her students have performed at Carnegie Hall, Royal Albert Hall and other venues as winners of the Yamaha Young Artist Competition, the Alexander and Bueno Competition (2nd prize), Atlanta Flute Club Competition, MTNA State and Regional Competition, the Georgia Philharmonic Competition, the Mid South and Florida Flute Fair Masterclass Competitions, Grand Prize Virtuoso International "London" Competition, American Protégé International Competition, the Oklahoma Flute Society Young Artist Competition, the Golden Classical Music Award Competition, Great Composer International Music Competition, the Concurso de Instrumentos de Viento Madera y Metal ICA, and the Artist International Competition (NY).
Andrée blogs about her experiences with focal dystonia at www.observingfocaldystonia.wordpress.com.